R&D laboratory in semi-solid products plant
In tandem with competition and motivation for survival in various branches of industry, application of knowledge and innovation in production of new products or what is these days called, the NPD or new products development has turned into a vital necessity for companies in general.
R&D is one of the fundamental parts of manufacturing companies. Standardization and production at the national and international levels, continuous monitoring of market place locally as well as internationally, and also provision of necessary science and technology in association with progress made in science and technology which is there will of top management is part of activities of this section of Iran Avandfar company.
R&D section of semi-solid products plant, with benefits taken from knowledge and innovations as well as advanced technology in the world, also with application of new and often organic raw material conducts the processes for production of non-aqueous products (including creams lotions, toothpastes, gels, etc.) and also improvement in the quality of existing products and in parallel with the advancement of top management wishes and desires, take the essential and the necessary steps comer in this respect.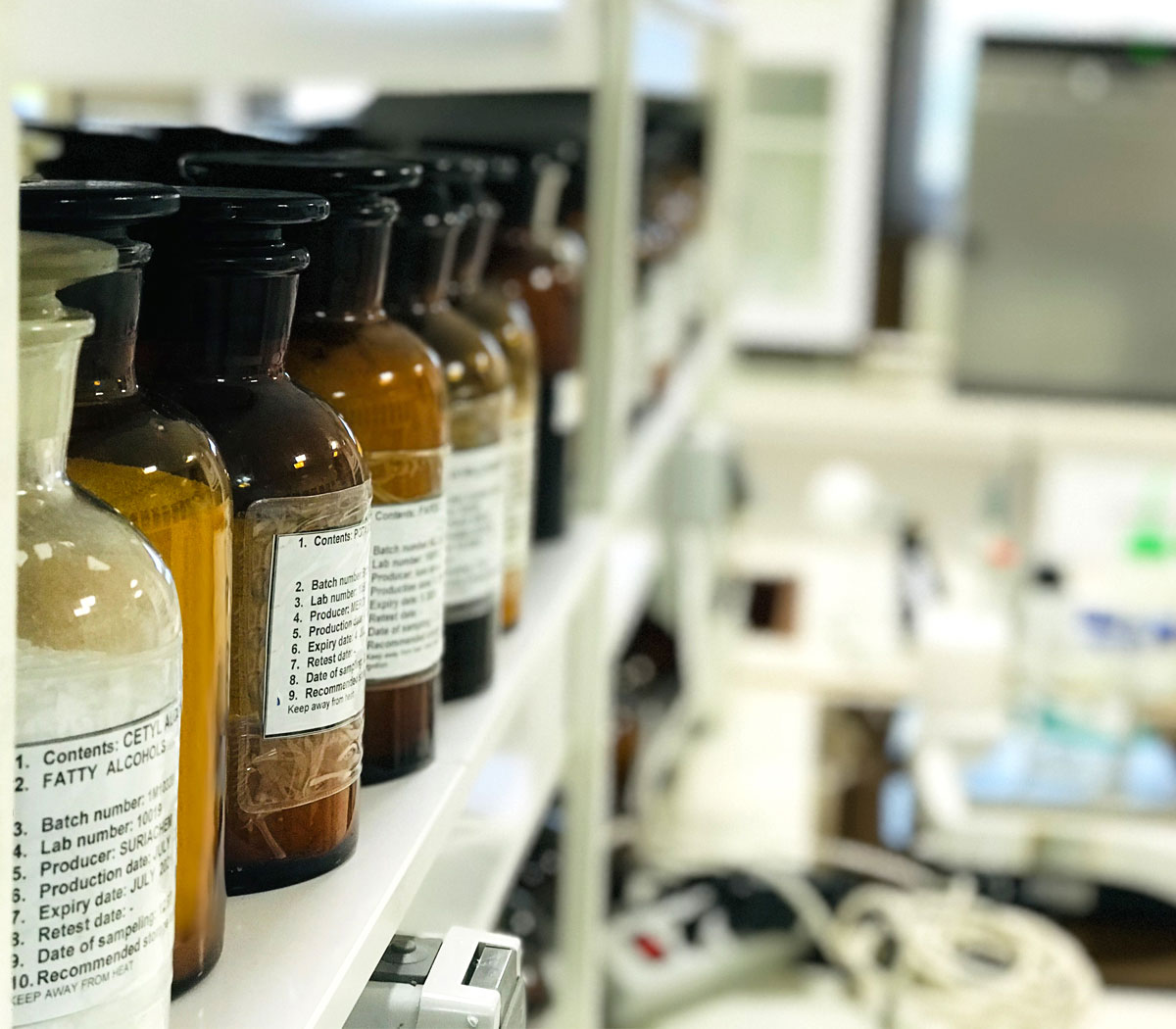 Semi-Solids Unit Research and Development Laboratory
Today, with increasing competition and motivation to survive in various industries, the use of knowledge and innovation in the manufacture and production of new products has become a vital issue for companies. Research and development is one of the most important pillars of development of production units. Standardization of actions and products at national and international level, accurate and continuous monitoring of domestic and foreign markets, as well as scientific and technological nutrition of the company in line with the progress of science and knowledge and management demands are among the actions of this unit.
Semi-solid research and development department of Iran Avandfar Company also uses the knowledge and innovations of the world's top formulations and technologies as well as the use of mostly organic and herbal raw materials in the process of designing and manufacturing non-organic cosmetics (including creams, lotions And toothpaste and gels, etc.) as well as improving the quality of the company's current products and taking steps to meet the management goals and requirements as much as possible.
Strong participation in learning process in the company

Improvement in productivity of company's work force

Increase in competition potentials in local and international scenes and strong and active presence in international markets

Increase in the level of self-sufficiency

Analysis of current plans from practically and importance

Research to reduce production waste and find smart solutions to reduce production costs
Improvement in market share in the light of the new product design annually

Increase in products range, with identification of new raw materials related to products, also realization of opportunities and needs of the intended market

Increase in the level of customer satisfaction as a result of quality improvement and to give appropriate response to consumers' needs and the betterment of consumer's welfare in society

Improvement in public knowledge by preparing SDS of the finished products

Innovation for NPD and improvements in process conditions

Improvement in quick response to society's needs
Processing of raw materials to the finished product

Control of delivery of the number and programs specified for the research unit in terms of quality and quantity at a specified time according to the nominal capacity defined to the production and quality control unit

Identify all safety and health issues, identify and evaluate quality risks according to these instructions

Identify all regulations and instructions and methods of implementing the environment, identify the obvious and invisible aspects

Supervise proper sampling and prevent material from spilling into the water
Conducting developmental and applied research

Attract, adapt, modify, innovate and develop new technology

Optimize existing processes with an emphasis on upgrading the level of automation

Development of products based on quality criteria

Designing new products with regard to its practical advantages
Request to check the packaging machinery required for construction by the technical unit

Supervise the environment of the research laboratory

Develop and implement strategic and operational plans

Summarizing and utilizing scientific resources to apply the latest scientific methods in the process

Implement functional applications
Review products on the market and plan for research

Review the schedule, timing and prioritization of new product research

Request raw materials to start prototyping

Coordinating with the business unit to receive raw materials

Research on market raw materials and competitors' product information
Obtaining a certificate of appreciation from the top research and development center of the country from the 7th Festival of Industry, Mining and Trade in 1397 and a sample product for analgesic cream (Icy Hot)

Selection of the company's R&D manager as the top researcher in 2006

Obtaining a gold medal for research and development of the Ministry of Industries and Mines in 2006

Selected R&D unit for the production of Dr. Jila OilFree sunscreen in 2004

R&D selected unit for the production of deciduous tooth gel in 2003